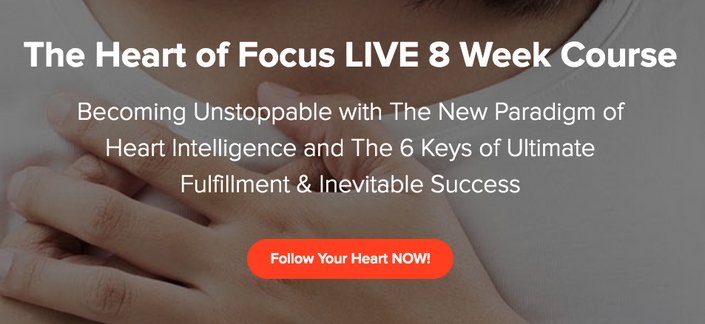 The Heart of Focus LIVE 8 Week Course 2.0
Becoming Unstoppable with The New Paradigm of Heart Intelligence and The 6 Keys of Ultimate Fulfillment & Inevitable Success
If you're really ready to be free from:
self doubt

or

fear

holding you back

feeling stuck

or frustrated not living the life you really want

being unclear

about what you really want

being too

scattered

,

unfocused

or

distracted

to stay in your power, manage your time wisely or follow through on your goals

feeling drained,

worried

or

overwhelmed

being

stressed about money

playing small

and

resenting

yourself

for it
repeating negative emotional patterns

within yourself & within your relationships
Then the Heart of Focus LIVE is your doorway to neuroscience backed:
life changing focus &

tools

to

forever

detox your distractions
clear repetitive negative patterns

&

blocks from your health, relationships and your relationship with money

rapidly increase your personal power & emotional intelligence

to

consistently

feel better within yourself

and within

ALL your relationships

almost

immediately and more everyday

clarify, crystalize & access the power of your purpose & mission in life

a structured, repeatable &

shareable path

to BECOME

who you really want to be and MANIFEST what you really want in every area of your life
If you can see what you want in your mind and feel it in your heart
...you will hold it in your hands.
Say YES To Your

Heart of Focus

TODAY!!
The Heart of Focus
8 Week LIVE Group Course
Begins Monday, October 19th
$5,000.00 LIVE Course + $1557.00 Bonuses
*Transform Your Life on This Journey AND Become A LIFETIME Founding Member of The Focused U Inner Circle Exclusive Facebook Group!
FOR ONLY
a single investment of $899
*Early investment option ends Friday, Oct 16th!

12 installments of $99
OR GET STARTED with ONLY $59
*This LIVE Course will be going up in price soon so act NOW!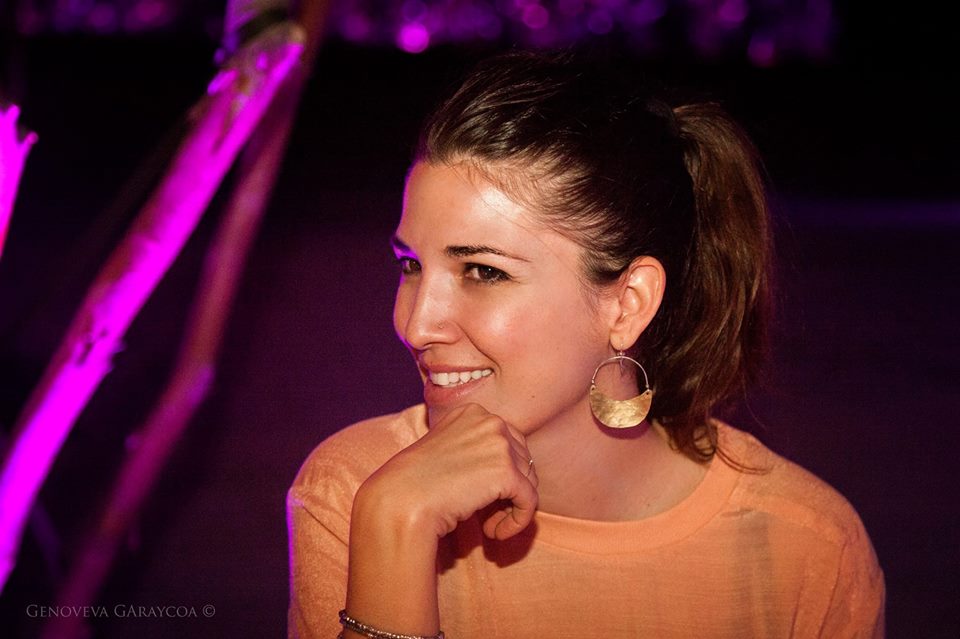 "This course has helped me in so many ways! Once one area of my life became a bit clearer everything else didn't seem like such a struggle. This course helped me remove the many barriers that kept me from manifesting the life of my dreams."
"If you are feeling stuck in any area of your life, this course will help you achieve your life goals with simple tools and meditations that have been crafted by an amazing master, Sadhu Singh."
-Mary S.B., Acupuncturist & Conscious Mom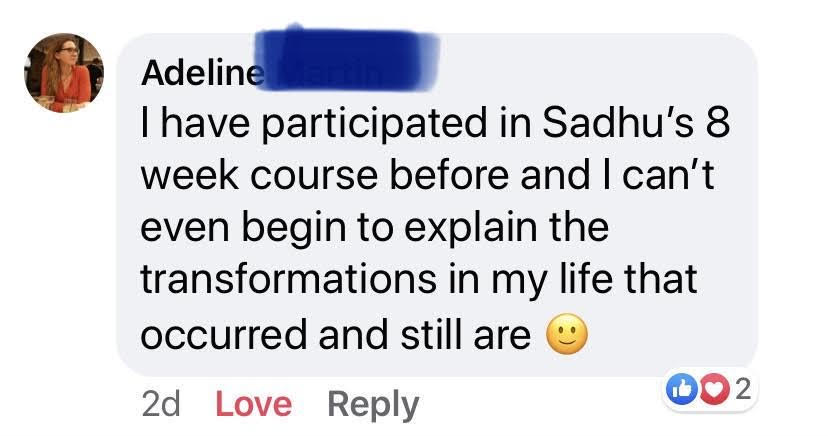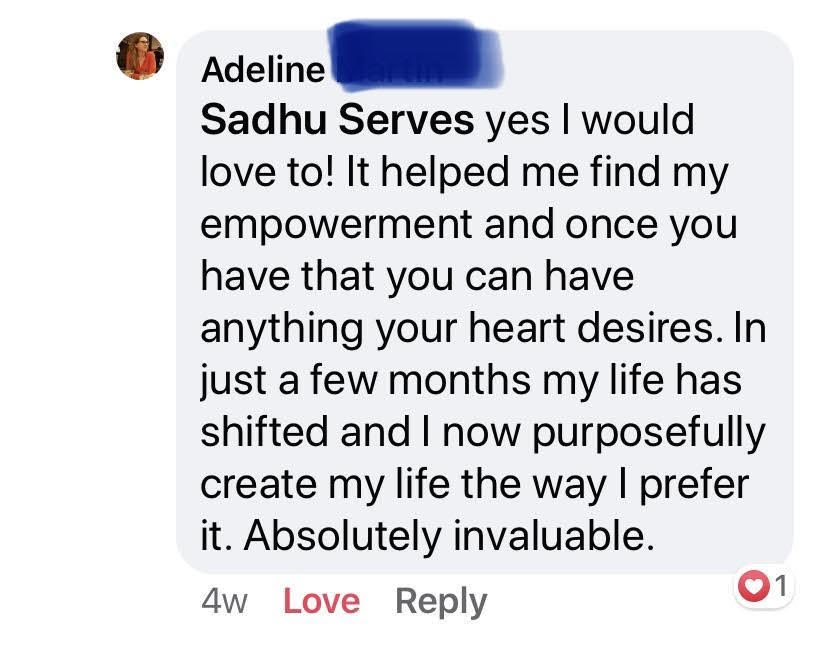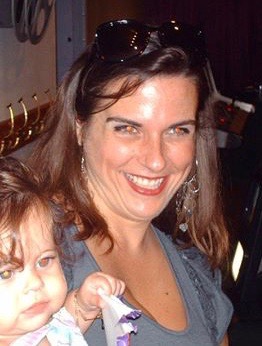 "I'm still enjoying the ripple effects of the

Heart of Focus

on a daily basis. When you feel that shift that you can really have what you want ...it's a truly unstoppable feeling! It's a wonderful, beautiful thing. As soon as you change that train of thought and everything just lines up for you ...how could you ever go back?"
-Angelique DM, Realtor & Dream Realizer
The only thing that holds you back is a weakness of attention and a poverty of imagination.
-Neville Goddard
Imagine more ease, fun and fulfillment in your life on every level becoming your new normal!
Imagine feeling your best and being your best when you wake up and most of the day!
Imagine more true connection & reciprocal upliftment in your current and all future relationships!
Imagine a life of more consistent financial freedom for being who you are and attracting money in proportion to how you love to serve people!
Imagine being a bright, beaming light of fulfillment & success unto yourself, your family, your friends, your colleagues or your clients!
Heart of Focus LIVE is a transformational journey that will give you:
invaluable life tools & skills to quickly detox yourself and your life from distractions & obstacles whenever you need to

the

Inner Focus Master Key

to quiet all the inner & outer noise, eliminate overwhelm, clear your DEEPEST, frustrating patterns AND rewire & rewrite your identity & life from the inside out


the quickest, simplest

track

to increase your emotional intelligence and TRULY feel better everyday inside yourself and within ALL your relationships


a deeply personal lifelong blueprint

that will help you stay focused on & aligned with what matters the most to you in your life

a reliable, repeatable and shareable path to map out & stay on track to manifest your inspired, healthy

life

of being who you really want to be, doing what you really want to do and having what you really want to have in your life!
SAY YES TO THE LIFE YOU'VE ALWAYS WANTED AND BECOME A FOCUSED U INNER CIRCLE FOUNDING MEMBER TODAY!
Research shows that having a mentor, training & community support is a far more potent combination than just training alone. In fact, training alone can increase productivity by 22.4%, but when combined with regular mentoring & community support, productivity is boosted by 88%!
What You'll Receive During Heart of Focus LIVE 8 Week Transformation
Just imagine being supported through your life shifting journey with a group of highly inspired & motivated people AND having your own Leading Heart Intelligence Ambassador along the way!
Your Heart of Focus LIVE Course Includes:
8 LIVE 2 Hr Interactive Group Mastermind Classes with Sadhu every week throughout the course
8 LIVE Group Focus Meditation & Sharing Circles with Sadhu every Sunday morning throughout the course
LIVE Group Connection, interaction & support through the entire course to help you stay inspired and get the most from your journey and from yourself every step of the way
Video & Audio Recordings of all 8 weekly class masterminds & bonus workshops uploaded into your course portal
Founding Member LIFETIME access to

Focused U

Inner Circle

Private Facebook Group
Personal and Group Challenges throughout the course for more connection, fun & motivation

Heart of Focus

LIVE Audio Catalog of All Guided Focus Meditations you'll use for all the layers of the course
ALL Heart of Focus LIVE Course Materials & Resources you can use right away and over & over in the future (your guided focus meditations, reading & video resources, study & journaling workbooks, etc)
Lifetime Unlimited Access to your

Heart of Focus

online course portal (which will always be updated with new, better material & resources)
EXTRA COURSE BONUSES:
Your Exclusive Founding Member

LIFETIME

Standing in

My Private

Focused U Inner Circle

Facebook Group

Value $1260 Per Year

3 Bonus LIVE 2 Hr Group Course Workshops with Me (Sadhu)

Value $297

Your more lovable life of ultimate fulfillment & inevitable success

Value- PRICELESS!
Exclusive Focused U Inner Circle Member Benefits:
FULL Access

to Heart of Focus LIVE Course Portal
Weekly 1 Hour Interactive

Q&A LIVESTREAMS Covering Course Content All Member Access

EVERY WEDNESDAY (ongoing)

Weekly 30 Minute One-On-One "Hot Seat" Coaching LIVESTREAM (Member Lottery Chosen Weekly) & 30 Mins Q&A All Member Access EVERY FRIDAY (ongoing)

Weekly

LIVESTREAM Group Heart Focus Manifestation Meditations & Sharing Circle All Member Access

EVERY SUNDAY (ongoing)

Guest Expert Interviews

Covering- Health & Well-Bieng, Mindset & Manifestation, Conscious Finances & Business, Art & Creativity, Conscious Relationships & Parenting and Mission-Based & Purpose-Based Living
The best way to predict your future is to create it.
-Abraham Lincoln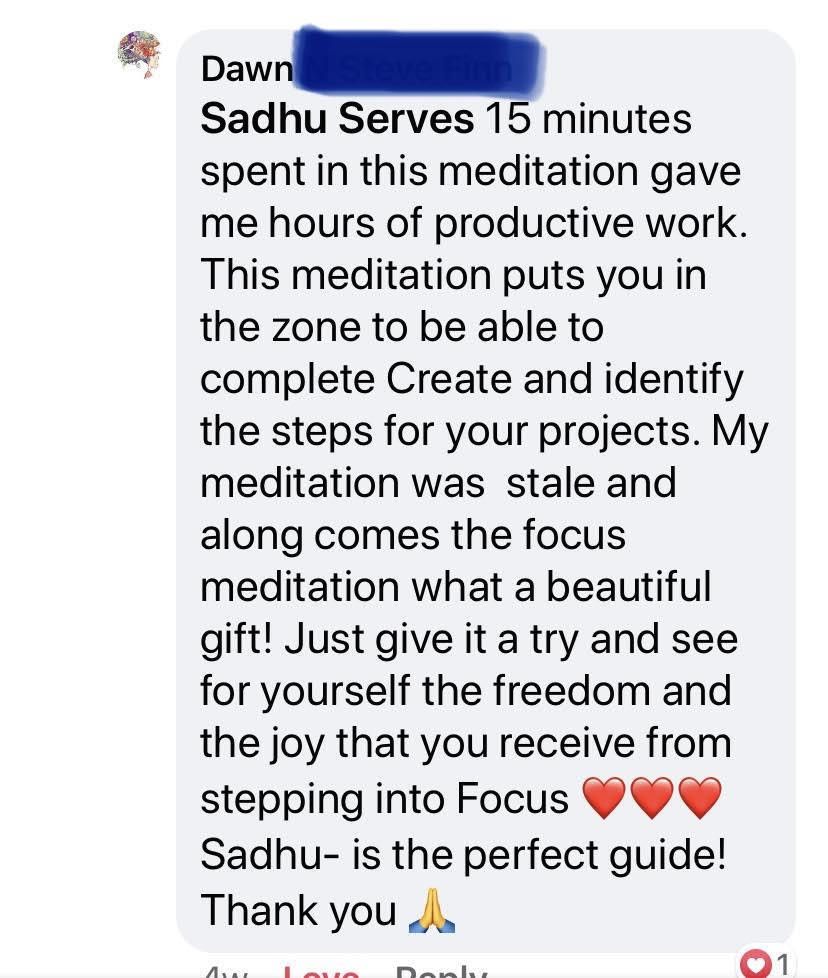 Your Heart of Focus LIVE Course Breakdown
Weeks 1 thru 8 PLUS Bonus Workshops

Week 1- Learning The Inner Focus Master Key
Our 1st Group Circle of Connection, Focus & Support

As well as learning the "inner Focus Master Key", which is the more advanced level to the basic level used offered in my Focused U with Sadhu Facebook Page and the general Focused U Facebook Group, we're going to define "Emotional Intelligence" and reflect on how it will always increase with your heart focus practice which will also always increase your personal health & wellbeing, improve your relationships and virtually guarantee you'll empower every area of your life.
Besides this foundation of heart focused emotional awareness, the first clear steps in our journey together is to define what fulfillment & success means to you so your life goals & visions are set on your own terms and infused into who you are moving forward and everything you do.
Then for the rest of the course we'll turn the 6 Keys of Ultimate Fulfillment & Inevitable Success which will always enhance your emotional intelligence, increase your true heart's fulfillment and practically guarantee you'll manifest more of what you want in your life from now on.
Weeks 2 - 4
Master The 3 Keys of Ultimate Fulfillment
Fulfillment is something everyone wants but not everyone gets. It comes easily to people who know how to stay present, who know their purpose in life and who bring genuine value to others.
we're going to focus on how

removing your distractions & being more present

can be your most attractive super power that will bring you more fulfillment everyday
we're going to focus on discovering your purpose in life and why committing to your purpose & self awareness will be your greatest agreement & source of inner strength that powers your life from the inside out
we're going to focus on

discovering your unique mission on Earth

and why this supercharges your inner strength and locks in your life's GPS
Week 2- Harnessing The Power of Being More Present

From the very beginning of your journey, you're going to be using the "Inner Focus Master Key" of heart-brain synchronization (not offered in the general Focused U Facebook Group) to take your practice of "being more present" to a more advanced level. This is by far one the most effective focus and meditation techniques available to overcome any of your challenges and increase your greatest strengths- physically, mentally & emotionally.
We're going to build on this foundation & skill together as a group for the rest of the entire course AND ongoing in the Private Focused U Inner Circle Facebook Group.

This week you're also going to receive & integrate other "Neuro-Hack & Brain-Hack Secrets". We're also going to initiate simple, mini-focus-challenges for even greater focus and increased brain power that the highest achievers in the world use to plan & manifest their life goals and avoid distraction, frustration & struggle along the way.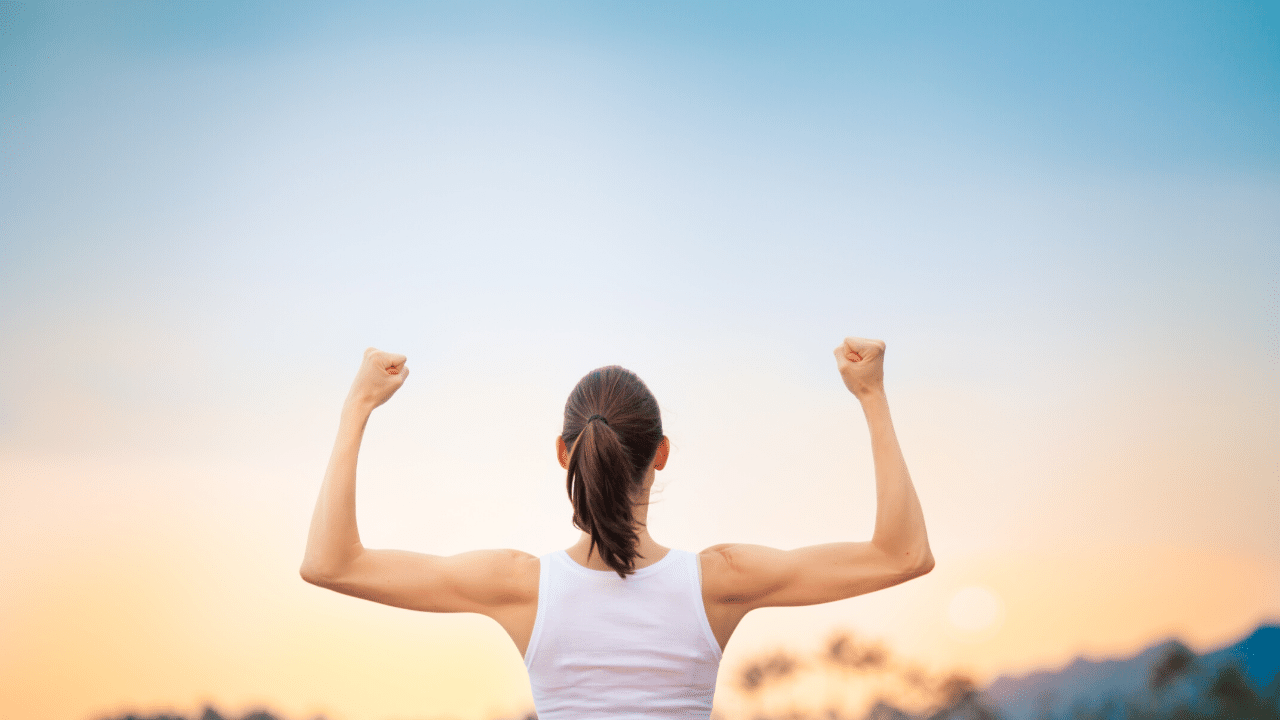 Week 3- Harnessing The Power of Your Personal Purpose

When you're "Living On Purpose" you're no longer drained by what didn't work or what held you back and instead you're spending your time doing & focusing on the things that you love most in life and that brings you the greatest power.
You'll uncover and learn how to tap the well of your greatest personal power of self awareness & inner-strength that will keep you inspired and pull you back on track quickly whenever you run into a hurdle or wobble in life.

You're going to get crystal clear on your unique purpose in life (what inspires you the most to be your best for you) and get clear on how to use your personal vision of purpose as the power to drive your life instead of life driving you from now on.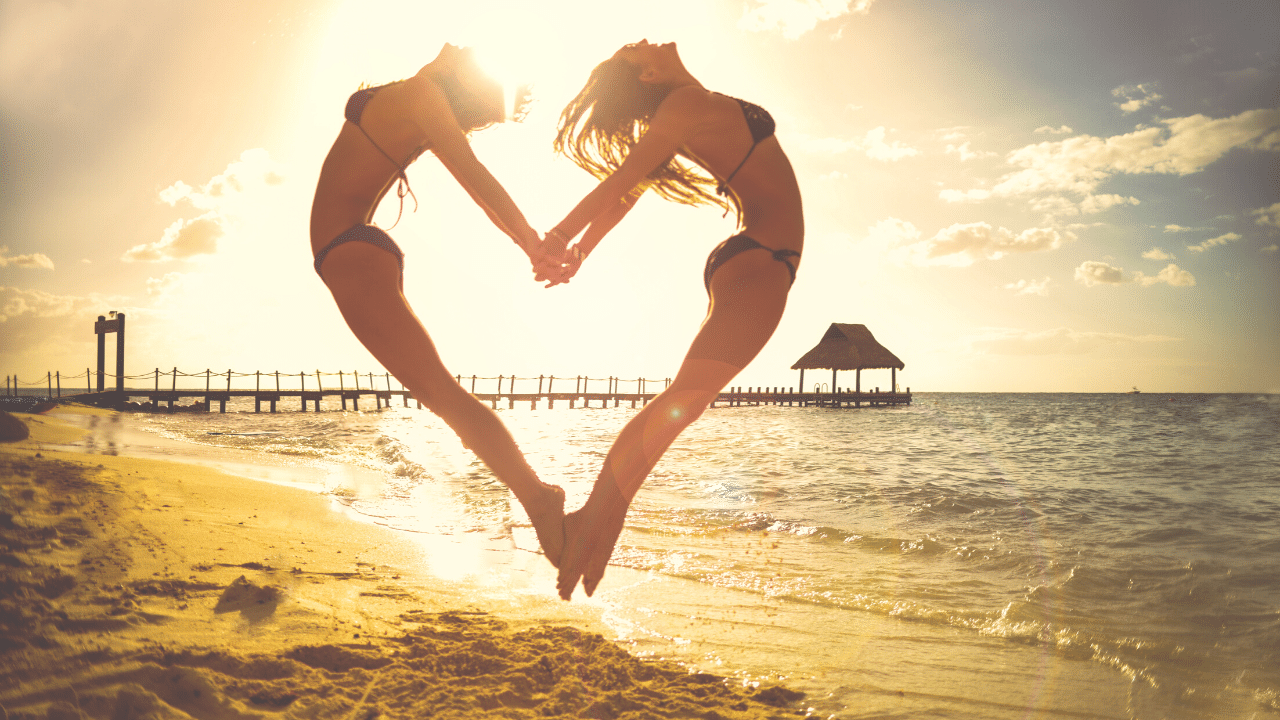 Week 4- Harnessing The Power of Your Mission on Earth
You'll uncover and clarify why you're here and how your intentional life can impact others AND how increasing your "social awareness" will considerably make things better for you and everyone you touch.
You're going to learn how having your mission in life clear (how you serve others & make the world a better place in the big picture and day to day) will always give you great insight, clarity & power.
You will learn how this is going to give your life meaning when you wake up everyday and how to use this power to set & follow through on your clear life goals & intentions like never before.

BONUS Workshop 1- Master Your Morning Master Your Manifestation
In this Bonus Workshop we're going to explore the simple truth that how you start your day lays ALL the tracks to what you'll attract in your life ...period.
learn powerful insights & game-changing tools you can use from now on to transform your mornings into to your best platform & support for your life's greatest focus & follow thru

learn how your morning focus will bring you the life of your choice

and learn how to up-level how you manifest forever
Weeks 5 - 7
Master The 3 Keys of Inevitable Success
Success IS inevitable for people that have taken full responsibility for their own focus.
we're going to dig deep into

the most simple & effective way to find YOUR focus

(who you want to be, what you want and where you want you life to go)
we're going to focus on

how having clarified your focus naturally empowers you to thrive where you choose

, even in the face of struggle
and we're going to focus on

how to pay your focus & attention forward (staying focused & following thru on your vision) for truly inevitable success

in every area of your life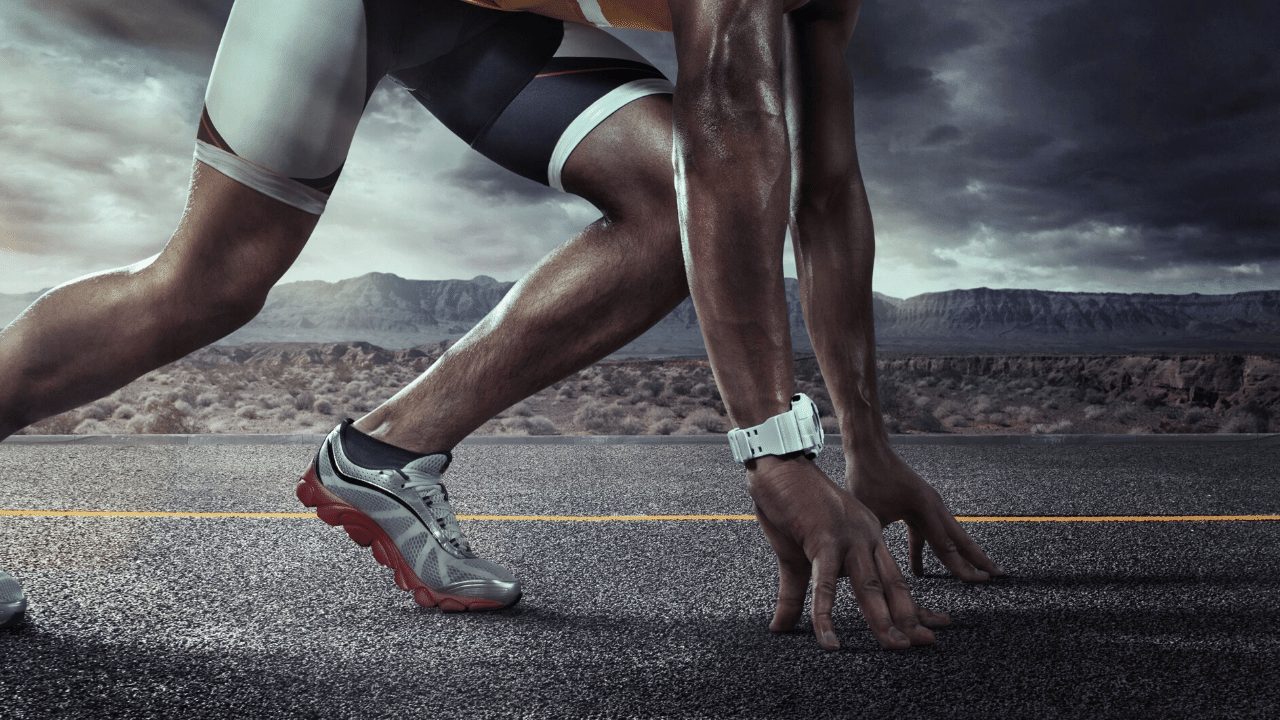 Week 5- Finding Your Focus
We're going to explore life focus reflections that will get you SUPER clear SUPER fast on EXACTLY who you want to be, what you want most and where you want your life to go in: your health, your relationships, your finances and your career and the best way to manifest what you want.
And once you clearly establish your ideal vision of your life you'll have the template, the insight and the tools to repeat this anytime you want for the rest of your life.

BONUS Workshops 2 & 3- The Greatest Secrets & The Science of Self Discipline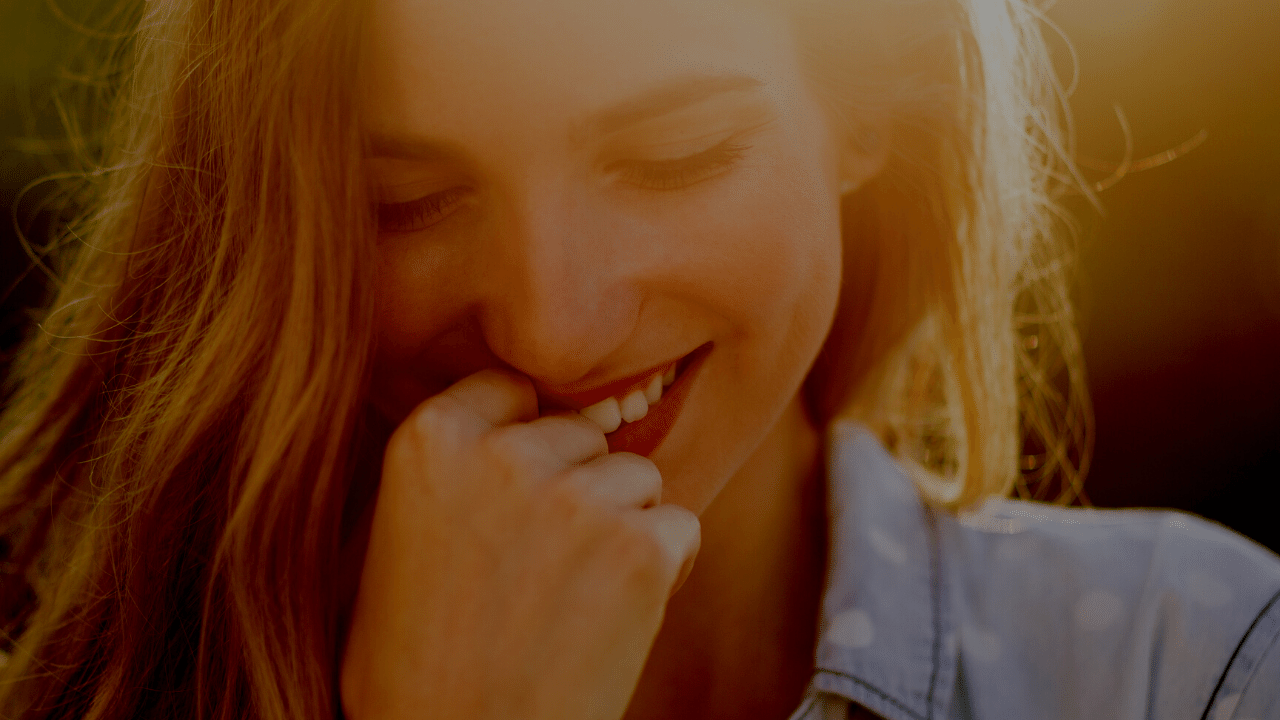 Week 6- The Art of Thriving More and Struggling Less
We're going to explore the emotional spectrum to understand and clarify that MOST of our life is an emotional state that always parallels a "vibrational reality" and how your emotional & vibrational states are working for you or against you as the true drivers of what you'll manifest in your life.




You're going to learn how to work with your emotions and your energy so that you can clear any blocks, stay positive to attract and receive exactly what you want in life even in the face of challenges or set backs.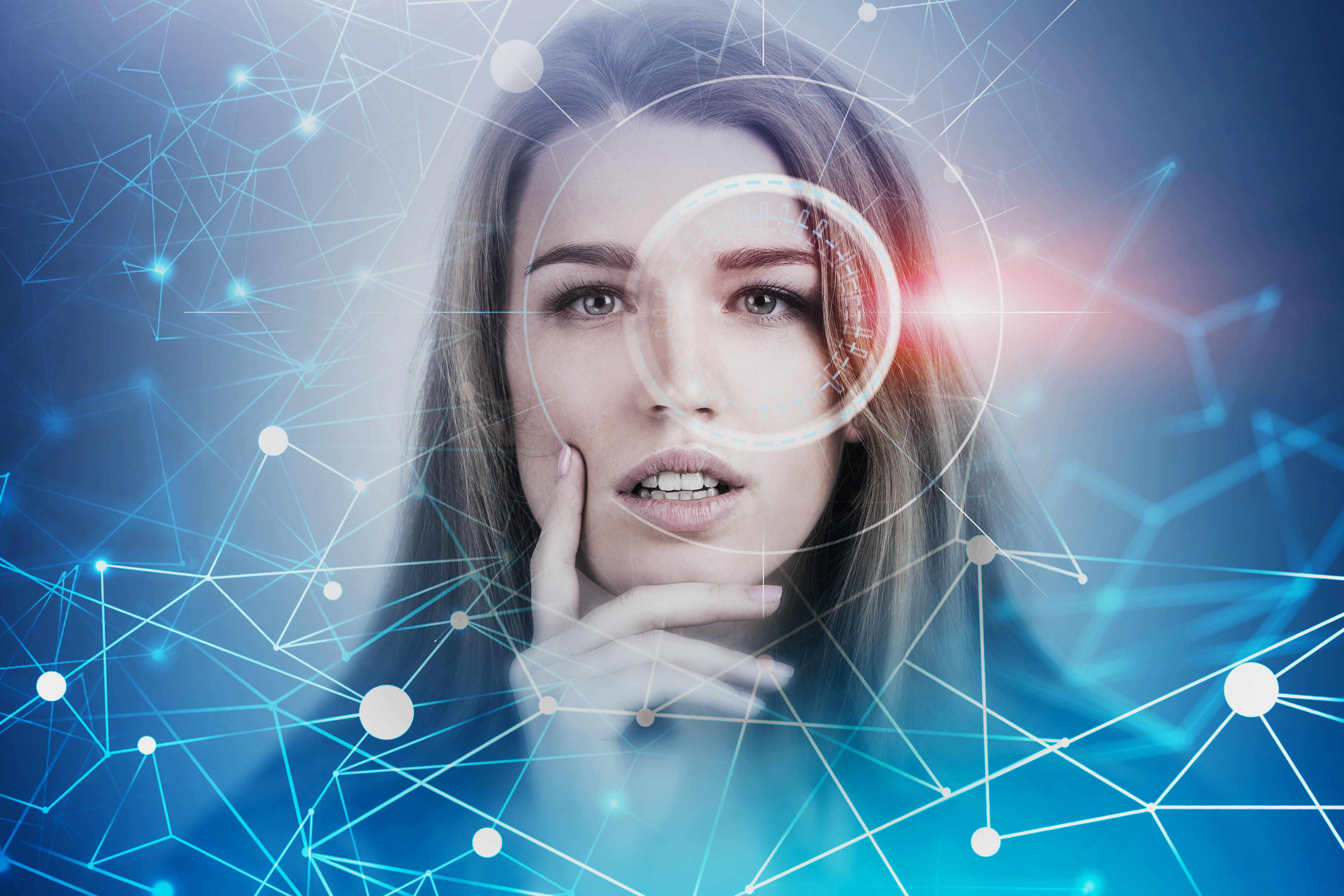 Week 7- Paying Your Focus Forward
In Heart of Focus LIVE you'll be learning & applying the single greatest technique and path that ALL of the world's truly successful people use to HAVE the exact life & future you prefer and NEVER look back or choose to stay stuck again.

I know this might sound both vague and too good to be true at the same time!
But once we get this far into the course, you'll be clear and focused enough to KNOW exactly why focusing through your ideal vision and following through is NOT complicated and the simple truth of doing this is that your success in life IS inevitable.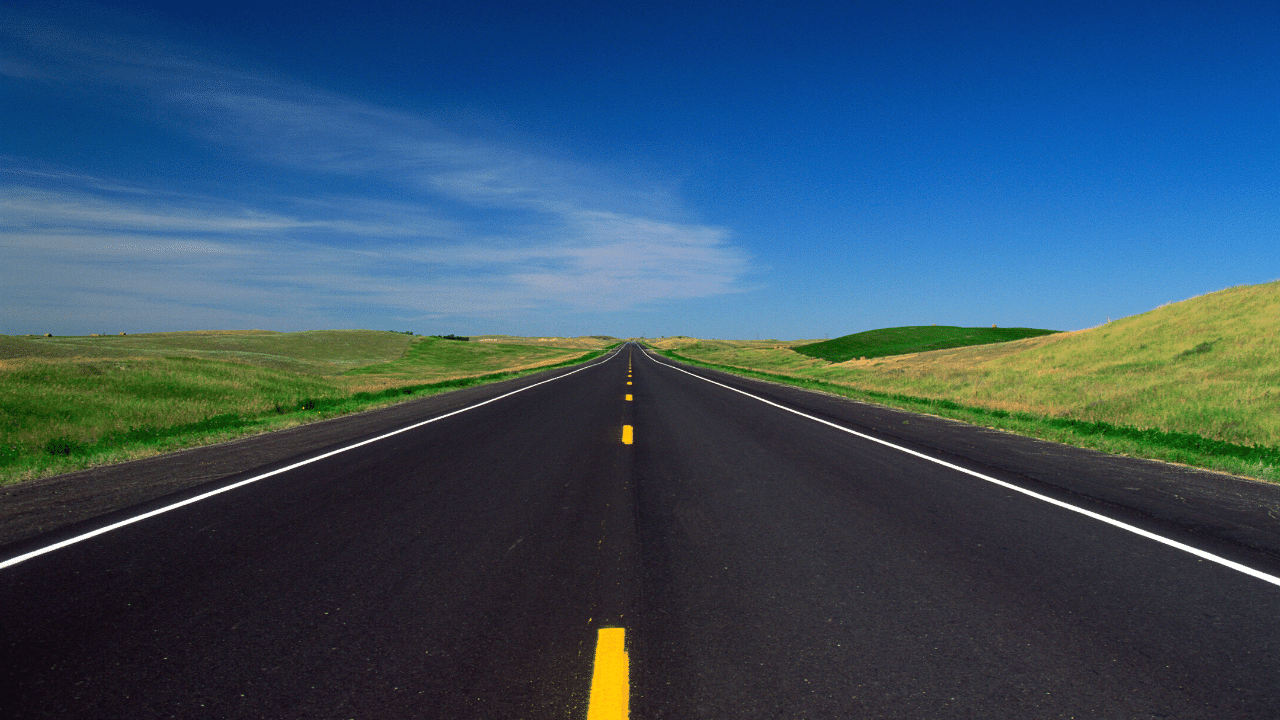 Week 8- Moving Forward: The 3 "C's" That Guarantee All The Keys

Clarity, Commitment & "Coherence" are the 3 capital "C's" that melded together in your focus WILL BE your Ultimate Fulfillment & Inevitable Success! These "C's" will carry you triumphantly through all your challenges and turns and absolutely guarantee your ROI of the turning of all the keys.
The last week of our course we're going to delve DEEPLY into the power of these "C's" so that you know them intimately inside & out.
We'll close our 8 weeks together anchoring these "C's" into your heart so that moving forward you never have to look back! And if you do look back, it will ONLY be through the lens of more fulfillment & more success.
Heart of Focus LIVE Course Completion! AND Ongoing Support & Inspiration in The Focused U Inner Circle!!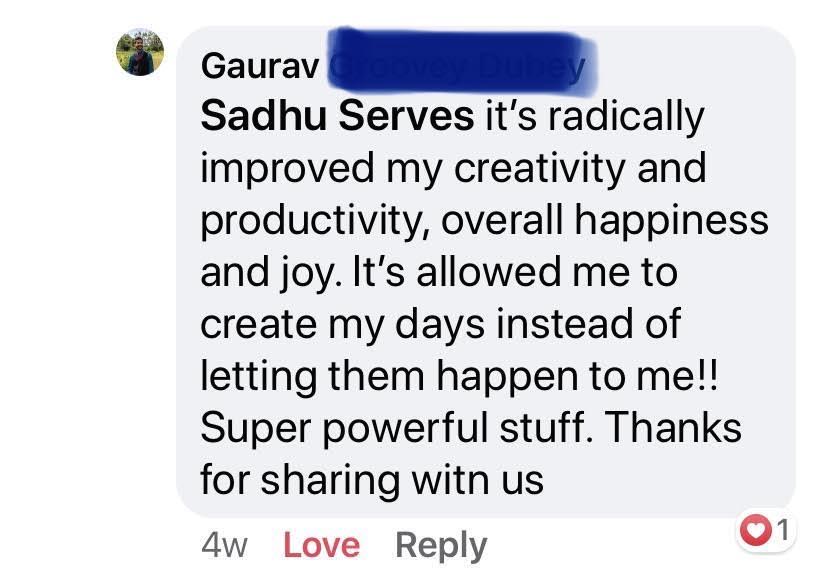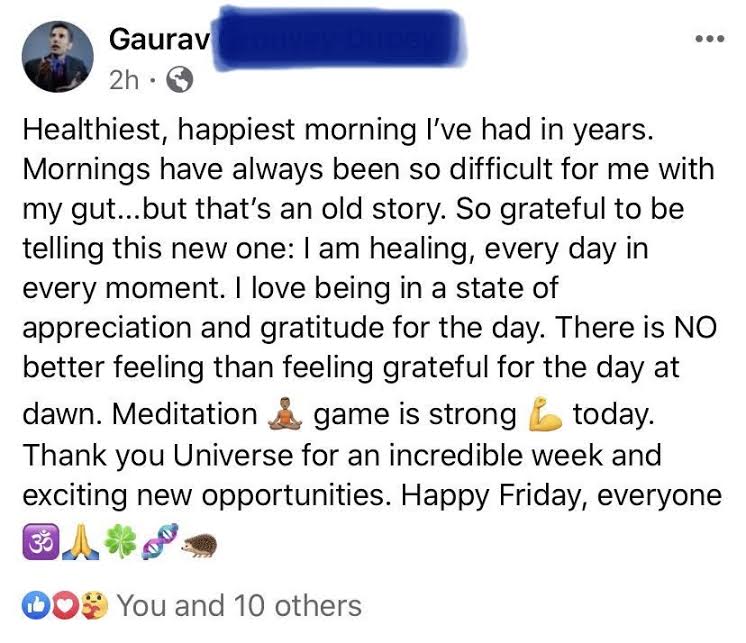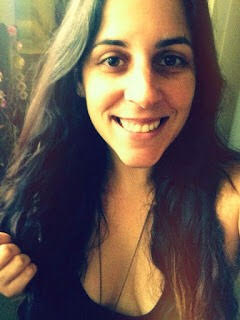 "This course is so worth the time and money invested! It will change your view of yourself and how you affect your world and also how you affect the future you prefer. It allows you to have the tools to manifest that future into being."
"What would you give to have that peace of mind? It's really worth everything!"

-Christy Silva, Bee Society Media
DON'T keep "working harder & harder" on yourself or in your relationships to only keep struggling with deep patterns that are still holding you back.
DON'T

keep asking yourself "why am I stuck again" after starting & dropping good intentions, projects or better health routines ju
st to end up in the same patterns you were in before you started.
DON'T

keep settling for the life you're stuck with and only wishing you could manifest the life you REALLY want.
The Heart of Focus LIVE & Focused U Inner Circle is the answer to your calling to learn the clarity & skills to finally be the master of your own life & destiny AND become an example or even a teacher of these skills for others.
Frequently Asked Questions
How do I get started after I sign up for course?
Right after you sign up you'll be taken directly to the welcome page where I'll personally (Sadhu) give you a warm high five & welcome from me and there you'll see when we'll meet for a course orientation before the course officially starts Monday, October 19th. We'll get to know each other a little, answer any questions you may have and get you inspired & prepared for the course to begin. I'm SO looking forward to sharing this transformational journey with you!
Can I still get everything from the course and finish the course if I miss one or some of the live group calls?
YES! You will have access to the main course portal and ALL the calls will be recorded and loaded into your portal. So, even if you miss some live calls you won't miss any of the material AND it'll all be there for you anytime you need it. AND we'll have two LIVESTREAMS per week in the Focused U Inner Circle group EVERY WEEK as long as you're a member so we'll always be focusing & following thru on the Heart of Focus!
What if I invest in the course and then decide it's not right for me?
If you feel that the course is not for you for any reason just let me (Sadhu) know within the first 30 days after your investment and you'll receive a FULL refund. No questions asked!
When does the course officially begin and what's the schedule?
The course begins with our first group connection and Bonus Workshop 1: Learning the Inner Focus Master Key- on Monday, October 19th at 7pm EST. Then all the weekly Mastermind LIVE classes will happen every Monday following until course completion, awww, on Monday, December 7th. Bonus Workshop 1: Master Your Morning Master Your Manifestation and Bonus Workshops 2 & 3: The Greatest Secrets & The Science of Self Discipline- times to be announced.
How will I find the time for a course if my life is so busy and I've already got so much to do?
This course is exactly about clearing your life away from draining busy work & struggle! When you're not drained with busy work & struggle you can experience more quality time freedom that gives you all the right time & space you'll ever need to focus on the right clear actions that will always support you and bring you closer & closer to the life vision and future you prefer.
How is The Focused U Inner Circle Group any better or different than the basic Focused U Group?
Both groups are a forum of support & inspiration for you and everyone in the groups to step more powerfully into this new frontier of focus, optimal living and accelerated manifestation powers as individuals and as a collective. In the basic Focused U group we use the entry level heart focus technique and we talk about the power of the 6 Keys of Ultimate Fulfillment & Inevitable success. In the Focused U Inner Circle group we will be using a more advanced level of the heart focus which greatly accelerates your powers of manifestation and we'll be talking about HOW WE ARE USING the 6 Keys of Ultimate Fulfillment & Inevitable Success AND supporting each other much more deeply & directly along the way. The Focused U Inner Circle is for people who are really ready to not only get more focused but stay focused and FOLLOW THRU to LIVE & HAVE the life they really want.
Your Focused U Heart Intelligence Guide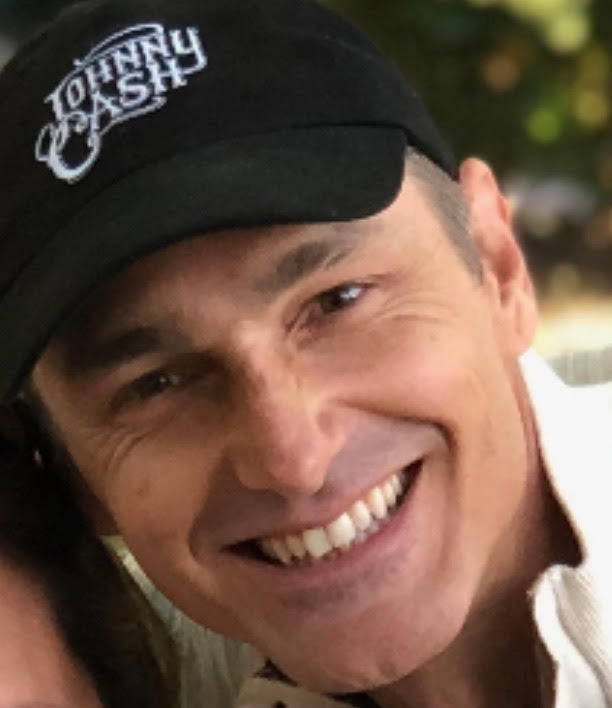 Hello, Sadhu here, Creator of Focused U & Lead Heart Intelligence Ambassador.

I'm on a mission to inspire humanity to know the power of our heart!
The most successful people and leading organizations of the future will be masters of emotional intelligence and masters of the intelligence of knowing how to focus, create & work smarter, NOT harder, to have the life and results they deeply desire the most. The one greatest skill or paradigm that reveals & refines any and ALL of the skills or paradigms required for true fulfillment & success, of any individual or any organization, is the new paradigm of Heart Intelligence.
If there is one thing that virtually guarantees a quantum leap of day to day life experience and greater results on every level for any one person or group, big or small, it is Heart Intelligence.
I want you and as many people as possible to not only know what "heart intelligence" is ...I want you to know how to use it to transform your life as deeply and as quickly as you can because I KNOW you can!
I help inspired people & organizations rapidly quantum leap their creative potential, EQ and all-level life results through the new paradigm of Heart Intelligence.
With over 20 years of public teaching and private coaching experience I've been guiding people from all over the world from entertainment celebrities, high level wealth management executives, professionals, artists, athletes, students to busy parents.
My MAIN focus and quest in life is to help you and as many people as possible know the power of your heart so you can rapidly clear your limitations, harness your greatest strengths and manifest the life of your dreams on every level with minimal stress, struggle and time drain.

I know you can have an amazing, fulfilled & successful life on every level if you choose to!
When someone is ready to commit to finding the focus required for them to have the life they choose we'll journey through the empowering path of asking the right questions, build on the power of consistent creative focus and follow through with simple, intentional action. Ultimately, I help people integrate their greatest strengths and their dreams into a grounded, practical and sustainable daily life reality for both immediate impact and long lasting results over their lifetime.
My passion and mission in life is inspiring as many as people as possible with "Heart Intelligence Mastery" and I founded the Focused U courses & groups so I could help more people than just my one-on-one clients and as a movement of education, connection & support for truly inspired living. Evolving from my own 20 years plus of deep self exploration and extensive research of personal development with world class institutions & human potential leaders around the world, the Focused U courses, coaching programs and communities of inspired people & organizations is growing & thriving more everyday in every way.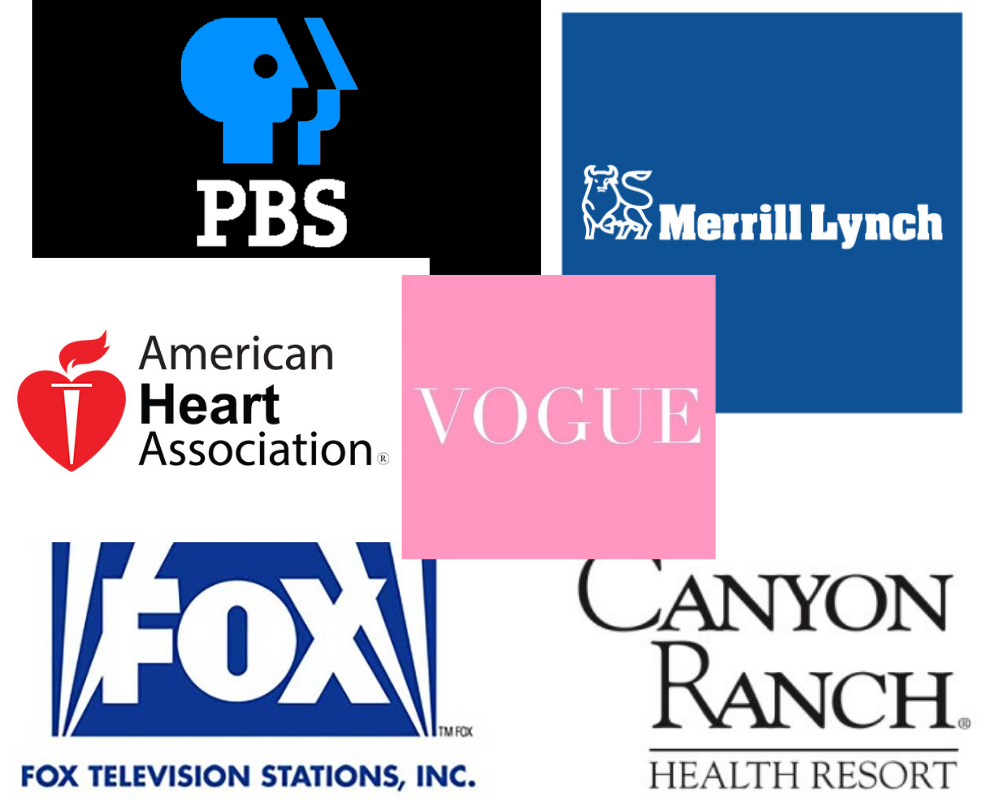 I've had the joy to introduce inner focus to special needs inner city children, public elementary school students & faculty and I've guided corporate meditation & wellness programs with The American Heart Association, Canyon Ranch and Merrill Lynch. I was featured in a prime time PBS special about a group pilgrimage I led to the largest human gathering on Earth, India's Khumba Mela, and I was a returning guest speaker for FOX TV's Health Watch.
I've traveled internationally and as far as remote mountain monasteries of Tibet to learn in person with meditation masters and spiritual leaders around the world such as the Creator of Mindfulness Meditation, John Kabit-Zinn, Deepak Chopra, Mooji and The Dalai Lama.
I live in the amazing Pacific Northwest with my incredible wife and our two awesome young boys.
I want you to fly and I want you to fly high and fast! It will require committed, consistent focus on your part, yes. But it will also be the greatest focus you'll ever find because you feeling your best and giving your best to the world are so worth it!
All Best In All Ways,
Sadhu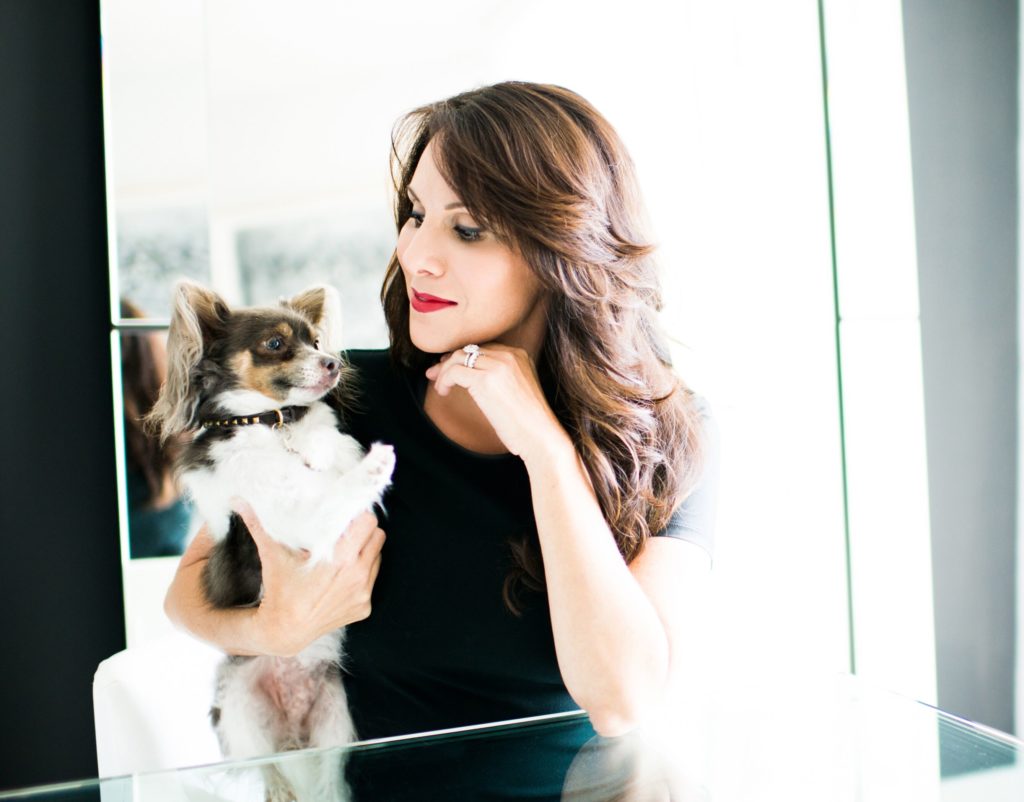 "Working with Sadhu helped me find a focus that led me to greater depth, understanding and appreciation of my life and purpose. It often takes a gentle, but powerful guide to get us where we need to be. He is that guide."
- Amy Zakarin, Zakarin Martinez Public Relations Miami USA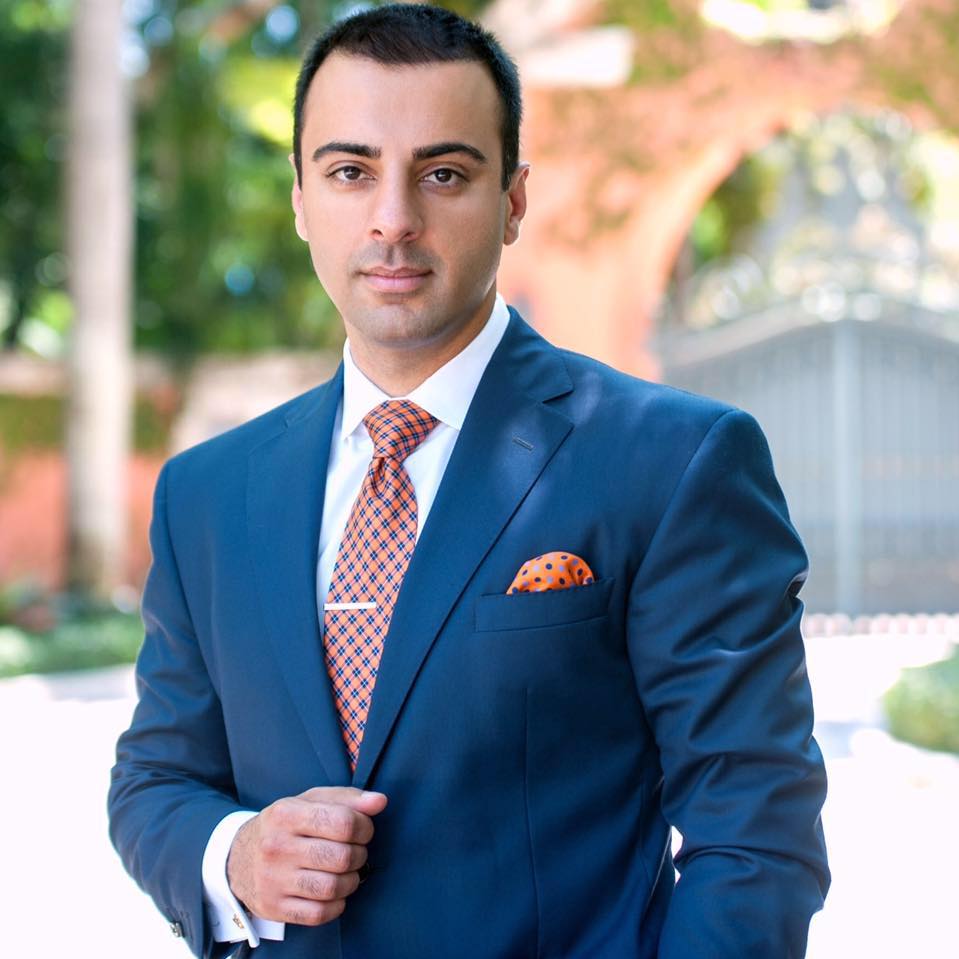 "I can unequivocally say that my life is brighter from having Sadhu as a confidant. He is holding a lantern, illuminating the path of self realization & discovery for all who wish to walk it."
- John Parsiani, Vice President of Bussiness Development, E-Team Cervera Real Estate Miami USA
"Coaching from Sadhu was pivotal in streamlining what I should be focusing my time, energy, resources and heart on in order to feel the most fulfilled. His coaching helped me joyfully focus on the actions & activities that are most in line with my personal values, which we uncovered & clarified. Highly recommended!"
- Shannon, Attorney & On-Line Content Creator